MindManager 21: cannot access "Managed published maps" function (blank screen)
Hello,
I've searched for similar questions on the forum but haven't found anything I could use, so if my search-fu skills have failed me please point me to existing threads and solutions : )
I use MindManager 21 and I can't access the "Publish / manage published maps" screen any longer, it launches a white screen that just stays blank.
I can publish new maps (or existing ones with new urls), or update a published map... but i just can't access the "managed published maps" any longer. I tried disconnecting VPN, using different internet accesses, but nothing seems to change.
This is the function that doesn't work when i click it: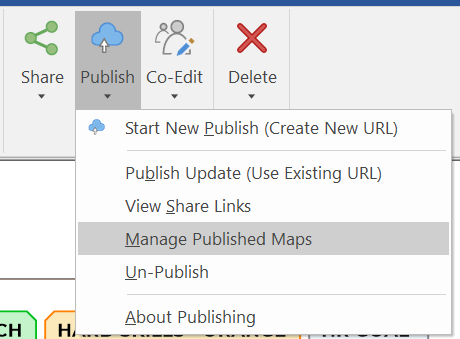 What can i do about it?
Thanks,
Saul
** Edit: just found this info that might be helfpul to troubleshoot:
Product: MindManager (64-bit)
Version: 21.0.261
Mode: Normal
User Name: Saul
Mindjet ID: none
OS: Windows 10 Pro 64-bit version 6.3.19042
Tablet: supported; disabled
Multitouch: disabled
Internet Admin Flag: internet enabled
Add-Ins:
MAP for MindManager (enabled)
Database Linker (disabled)
Microsoft Excel Linker (enabled)
Microsoft Outlook Map Parts (enabled)
Microsoft Project Import and Export (enabled)
Smart Map Parts (enabled)
Sort Topics (enabled)
Save as Web Pages (disabled)
MPX Import (disabled)
Browser (enabled)
Analytic Views AddIn (disabled)
Brainstorming AddIn (disabled)
Excel AddIn (enabled)
FreeMind Import (enabled)
Gantt Pro (enabled)
Export HTML5 Maps (enabled)
OPML Import and Export (enabled)
Microsoft SharePoint Linker (enabled)
Word AddIn (enabled)
XMind Import (enabled)
File Explorer (enabled)
Task-Q (enabled)
Internet Explorer Version: 11.789.19041.0
Default Browser: Chrome
Microsoft Office Applications:
Word 16 64-bit
Excel 16 64-bit
Outlook 16 64-bit
PowerPoint 16 64-bit